The Strength Summit Singapore 2019 is the first seminar in Singapore with the focus on Sports Nutrition, in partnership with the ISSN.
About this Event
The Strength Summit Singapore 2019 is organized by the J&A PRO Academy, the first seminar in Singapore with the focus on Sports Nutrition, in partnership with the International Society of Sports Nutrition (ISSN), the world's leading certifying body in the field of science-based sports nutrition.
This event marks the first in the series of high quality seminars by J&A PRO Academy, as part of its commitment to offer evidence based education to all fitness professionals, coaches, educational providers, athletes and all sports enthusiasts.
Nutrition is an important aspect in an individual's health status as well as in fitness and sports performance. However, with the vast amount of information available online, it is critical for fitness professionals to seek for resources that provide information that is backed by scientific research.
The Strength Summit Singapore 2019 brings you some of the most established scientists in the field of sports nutrition and sports performances for the FIRST time, with topics ranging from optimizing nutrition, sleep and anabolism and building mental strength.
_____
REGISTRATION FEES:
EARLY BIRD by 31st August:
Public: $175
*Workshop Bundle: $250 (U.P. : $265)
**ISSN Members: $150
*Workshop Bundle: $225 (U.P. : $240)
——
1st September onwards:
Public: $200
**ISSN Members: $175
​_____
*Special Workshop with Dr. Susan Kleiner. Find out more here.
**To join as an ISSN member, please click here.
Further enquiries please email to info@issn.asia.
_____
Fee includes 1 buffet lunch and 2 refreshment tea breaks.
All prices inclusive of 7% GST.
_____
Transfer and Refund Policy:
Tickets are transferrable. Terms and conditions apply.
No refund upon purchase.
_______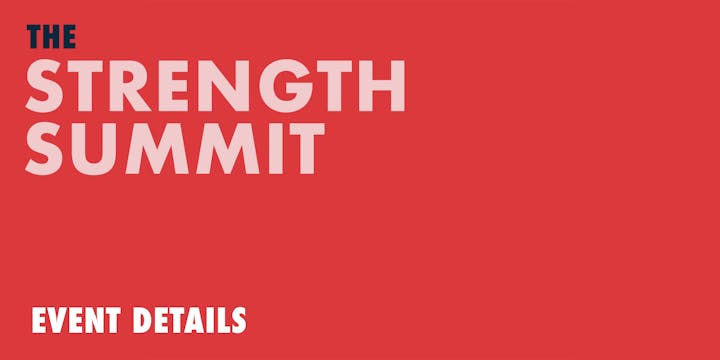 WHO SHOULD ATTEND
Personal Trainers
Sports Coaches
Physical Training Teachers/ Instructors
Pilates/Yoga instructors
Power/Strength/ Bodybuilding/ CrossFit/ Combat/ Endurance Athletes
Fitness Professionals and Enthusiasts
_____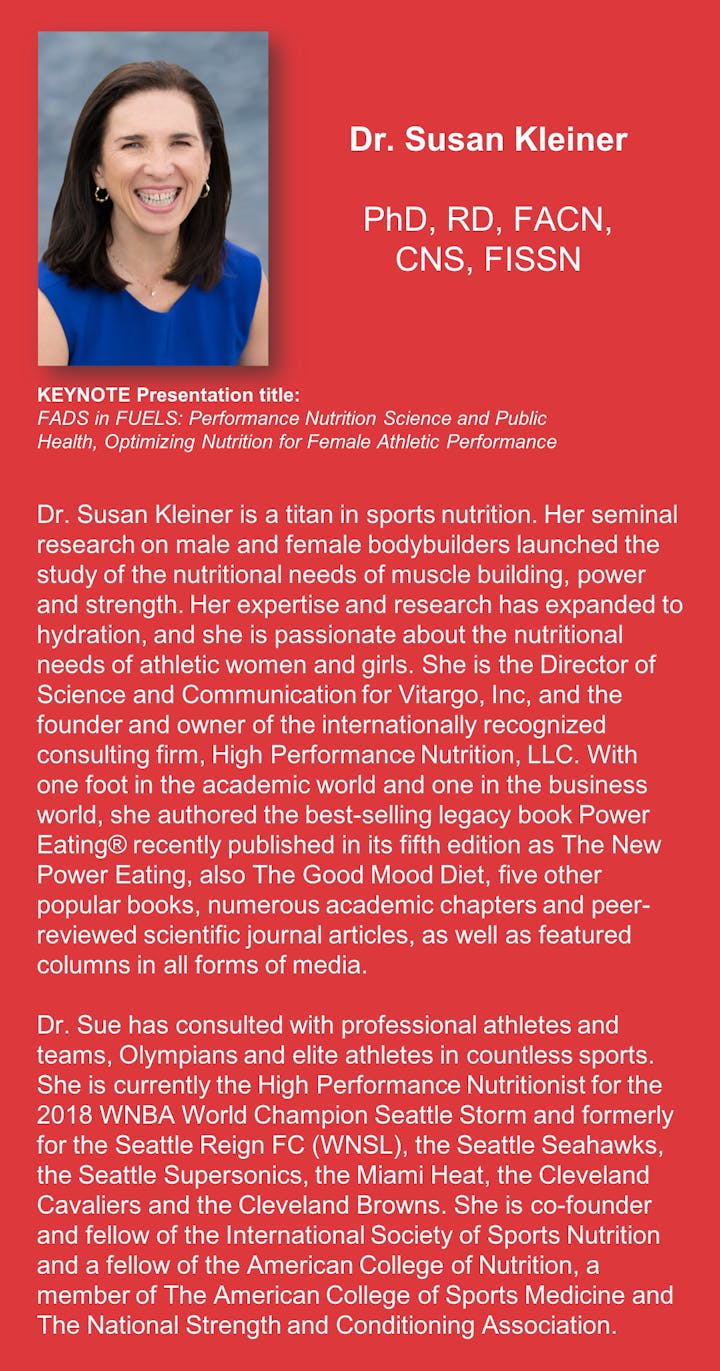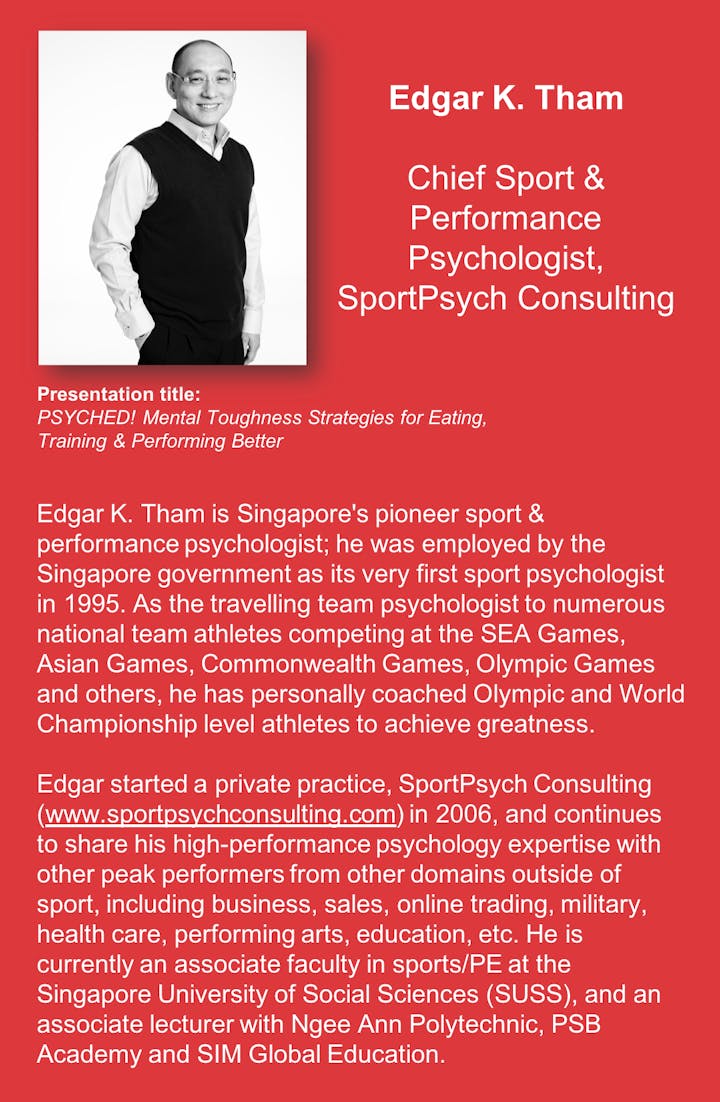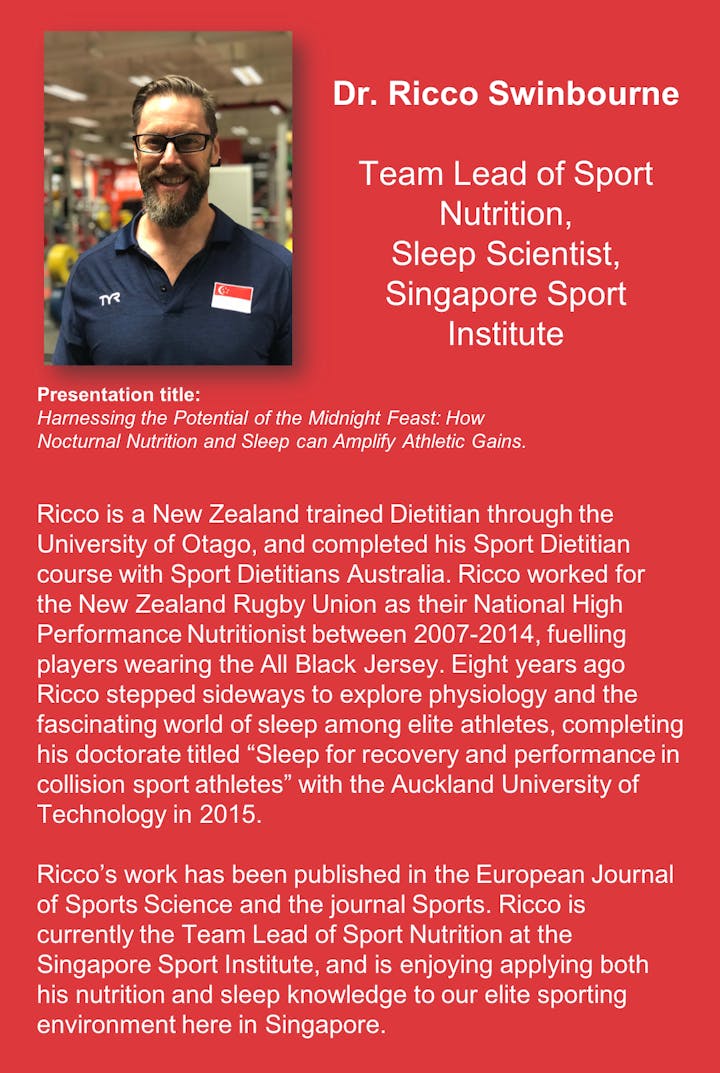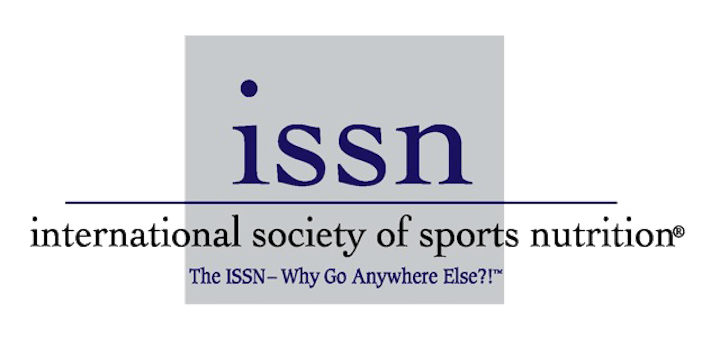 ______
EVENT PRESENTATIONS
KEYNOTE Presentation:
FAD in FUELS: Performance Nutrition Science & Public Health
By Dr. Susan Kleiner
Low-Carb, Keto- or Carbs for athletic performance? Which way gets results?
Is the Glycemic Index the holy grail for public health?
Is fat bulletproof?
Is fasted training the best path to leanness?
Science and facts matter. Learn the history and the proof behind the claims. Dietary choices and recommendations can have powerful impacts upon health and training goals for clients, as well as the public. Become an informed guide.
Optimizing Nutrition for Female Athletic Performance
By Dr. Susan Kleiner
Female athletes come in all ages, shapes, sizes and sports. They are not small men. When it comes to leading edge concepts in sports nutrition, there is little to no research data on women to follow for creating recommendations and guidelines. Nearly every article, every recommendation, every strategy that you hear about and read about, is based on data collected from men, not women or girls. Only 1/3 of all subjects in exercise science research studies are female, and likely less than that in sports nutrition research. But when it comes to the question of energy needs, the number one most critical issue in sports nutrition, we do have female-centric data. This presentation will focus on the science behind Energy Availability and how to maximize the hormonal benefits of the menstrual cycle to optimize nutrition and training. Practical client assessment and intervention strategies will be discussed through case study presentation.
PSYCHED! Mental Toughness Strategies for Eating, Training & Performing Better
By Edgar K. Tham
To optimize sporting performance or physical fitness, there is a need to consider the mental aspects. Specifically, athletes are expected to consistently perform up to potential in sport competition, while fitness enthusiasts need to stay motivated and adhere to strict dieting and physical conditioning regimens.
There is a growing body of research that shows an association between mental toughness and sporting performance, healthy lifestyles, and even successful weight loss! With the objective of optimizing nutrition, physical conditioning, and sporting performance, this session will uncover:
1. The latest scientific research on mental toughness,
2. Eight practical strategies for strengthening one's mental toughness, and
3. How to periodize mental skills, in tandem with physical, technical and tactical training
(especially for those who preparing for sport or fitness competitions).
​
Harnessing the Potential of the Midnight Feast: How Nocturnal Nutrition and Sleep can Amplify Athletic Gains
By Dr. Ricco Swinbourne
The importance of sleep and the night time window for neural and muscular regeneration is well recognised. However, the optimisation of nocturnal recovery for the elite athlete is a highly discussed and continually developing area of interest to sport scientists, coaches and athletes alike. This keynote address will explore the potential for a variety of nutrients, when consumed nocturnally, to promote anabolism and support beneficial adaptations in lean muscle tissue. Specifically, protein type, timing and dose will be discussed. Furthermore, this presentation will include an update on particular nutrient : sleep interactions within the context of improving sleep quality in athletes. The interesting opportunity that exists for elite athletes to fully harness the night time window for growth, recovery and repair will be explored via an integration of the latest nutrition and sleep literature, with practical every day (night) nutrition protocols and case studies.
_____
EVENT'S ITINERARY & SCHEDULE
8:30
Registration
9:00
Welcome
9:15
Dr. Susan Kleiner:
Keynote
FAD In FUELS
10:30
Tea
11:00
Edgar Tham:
PSYCHED! Mental Toughness Strategies for Eating, Training & Performing Better
12:15
Lunch
13:30
Dr. Ricco Swinbourne:
Harnessing the Potential of the Midnight Feast: How Nocturnal Nutrition and Sleep can Amplify Athletic Gains
14:45
Tea
15:15
Dr. Susan Kleiner:
Optimizing Nutrition for Female Athletic Performance
16:30
Closing Remarks
17:00
End
______

JOAN & AUGUSTINE PRO ACADEMY
The J&A PRO Academy was established by Joan Liew and Augustine Lee with the focus of providing practical skills training to enhance the knowledge application for newly certified fitness trainers. It also aims to develop skills mastery and enhancement for all fitness professionals.
Certified by the Institute of Technical Education (ITE) as a recognized On-The-Job-Training-Centre, J&A PRO Academy offers structured on-the-job training that equip aspiring fitness trainers with the skills they need to train and coach clients. The academy also runs courses for fitness professionals across a diverse range of practices, to enable them to acquire new knowledge and skills as part of their skills mastery and career development, thereby deepening their current skillset, enabling them to adapt to market changes to stay relevant.
In addition to practice-based skills development, J&A PRO Academy also conducts workshops, courses and seminars with the highest quality and credentials, verified by professional organisations such as the ISSN. It engages with international professionals in the area of fitness, bodybuilding and nutrition, with the aim of raising local standards to meet the challenges of the global scene.
https://fitnessfactory.com.sg/proacademy/
_____
Date And Time
Thu, 17 October 2019
9:00 AM – 5:00 PM Singapore Standard Time Singapore Time
Location
Ibis Singapore On Bencoolen
170 Bencoolen Street
Singapore, 189657