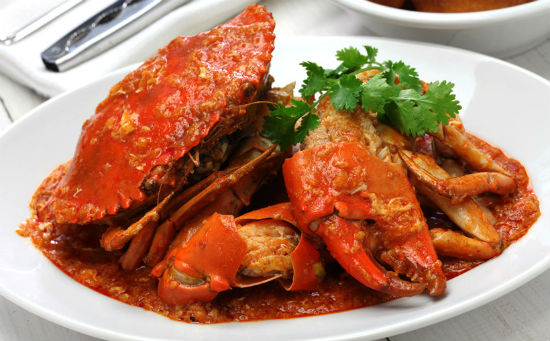 20 Jan

Chilli Crab

Chilli crab is one of the most special family dishes in Singapore, and it's among the most famous things to eat in the city when you're visiting Singapore as well. – This is one of the national dishes of Singapore!

Crabs, which are often black mud crabs, are cooked in a thick goopy sauce that's sweet, sour and salty. Many versions of Singapore chili crab include egg in the sauce to make it thick and richer, plus some blended chilies and tomatoes for flavor and eye-catching color. Despite the dish being called chili crab, it's actually not spicy, but the chilies give more of a fragrance to this dish.

In addition to chili crab, black pepper crab is another crab favorite in Singapore. The pepper is strong, but not strong enough to be too spicy, just offering a slight kick that complements the sweet meat of the crab.
Long Beach Seafood Restaurant
Address: #01-04 East Coast Seafood Centre Singapore
Open hours: 2:30 pm – 12:15 am on Monday to Thursday, 1:30 pm – 12:15 am on Friday, 11:30 am – 1:15 am on Saturday and Sunday
Prices: $100 SGD per person if you go less than 4 persons
How to get there: East Coast area is not convenient if you take public transport.  Get Uber or Grab taxi would be a good choice.